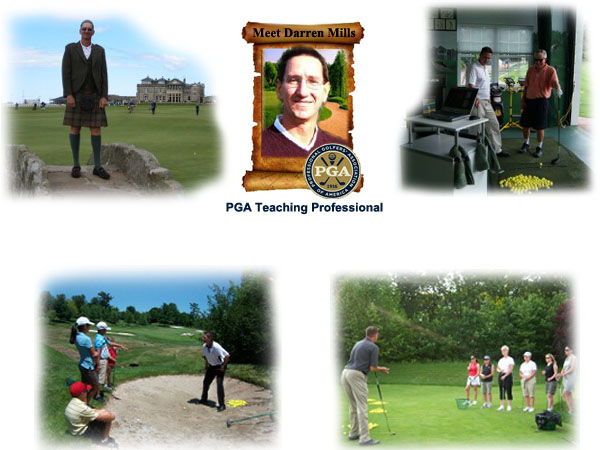 "Those who question the game ask; those who know the game answer!" – Darren Mills                                                                           

Darren has spent the previous fourteen years here in the Philadelphia Section PGA as First Assistant Golf Professional at Northampton Country Club in Easton, PA.  His leadership role in regards to all functions of the golf operation directly contributed to its performance and success. His wealth of experience in the area of teaching and club fitting will be a great addition to an already successful environment here at the Lou Guzzi Golf Academy and Talamore Country Club. 
Darren resides in Souderton, PA with his wife of fifteen years and their eleven year old daughter.

Career Highlights 
Class A – Member of the PGA Of America

PGA Class A Member   Elected 1996

Taylor Made Elite Assistant Staff Member

Taylor Made Certified Club Fitter

Philadelphia PGA Assistant Golf Professional of the Year Nominee 2007

PGA "Growth of the Game" National Council Member

Philadelphia PGA "Buddy Program" Participant

Active Participant in all Sectional and National Education and
Tournament Programs.

Annual Participant in both the Taylor Made Invitational and Adidas
Golf International Pro-Am's since 1997

First Assistant Golf Professional Northampton Country Club, Easton,
PA 1995-2008

Assistant Golf Professional Hinsdale Golf Club, Clarendon Hills,
IL 1993-1995

Assistant Golf Professional Westmoreland Country Club, Wilmette,
IL 1991-1993

Career Low Round-65, Career Tournament Low Round-67,
Low Round for Nine Holes-29

Gilda's Club Delaware Valley Service Volunteer

AED and CPR Certified

Play Golf America Volunteer
To book with Darren
Darren Mills
Golf Professional
267-252-0141
Darrenpga@hotmail.com